The Guan Yin : Bust Carving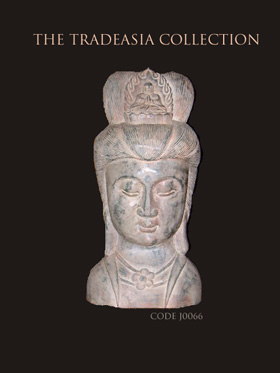 Guan Ying Carving : Art Dimensions : 38cm X 29 cm or 15 inch x 11inch. Weight approx 12 Kg. PRICE : Offers Considered
posted by resortsofasia
This Carving is a modern bust of the Guan Yin, Goddess of Compassion.
The worship of Guan Ying in China is growing. Guan Yin was a male Hindu god that was imported into Chinese Buddhism as a female deity of compassion. Temples to Guan Ying can be found in many places across china.
With Buddhism, Guan Yin's worship was introduced into China as early as the 1st century AD, and reached Japan by way of Korea soon after Buddhism was first introduced into the country from the mid-7th century. This bodhisattva was introduced into Tibet (called Chenrezig) in the 7th century.
For Buyer enquiries on this item please send and email or fax to : +65-67399832 with the subject heading : Guan Yin Bust.
For furthur references to the significance of this Goddess prized value can be found in most arhives. For references to the value of this art ww at www.sothebys.com Or www.christies.com or www.butterfields.com. Alternatively compare treasures from www.asiaart.com or auction on line at www.ebay.com. http://www.asianart.